Post by TIANA ARIEL THOMAS on Jun 29, 2013 19:36:07 GMT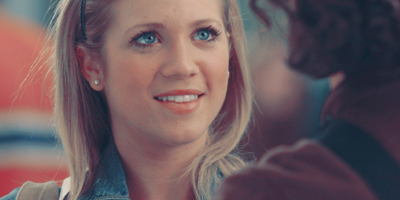 tiana ariel thomas
[/i];;[/b][/size]
if i lay here, if i just lay here
would you lie with me and just forget the world?
---
[/center]

name;; tiana ariel thomas
age;; 24
gender;; female
band you are affiliated with;; lunatic's disadvantage
position in band;; stylist
sexuality;; bisexual
play-by;; brittany snow

[/size]

personality;; naive - she is a very naive girl and that is mostly because of the over protective nature of her twin sister. she has never been allowed to get into any trouble so she has grown up thinking that nothing bad happens. it's one of the reasons that she can't really see any bad in anyone and she will willingly walk into dangerous situations without realising it. luckily, her sister is there to rescue her
enthusaistic - if there is one thing that she's not lacking in, it's enthusiasm. she finds everything that she can to be something exciting, often finding styling someone's hair as the happiest and most exciting part of her day. it's one of the things that makes her a joy to be around and a nightmare for most of the other people.
good-natured - she is always friendly to everyone she meets, always willing to lend a hand and never afraid to be nice to someone even if they aren't nice to her. she's the sort of person that would drive you halfway across town at midnight just because you really wanted a milkshake.
likes;; strawberries, music, fashion, drawing, sketching, photos, magazines, scrapbooks, esmerelda
dislikes;; drugs, insects, snakes, spiders, scary movies
quirks and habits;; braiding her hair when she's sat still, staring off into space, arranging people's clothing when she's near anyone
strengths;; designing and arranging clothing, imaginative, easy to talk to
weaknesses;; very naive and not really aware of what's going on in the real world half the time, little bit ditzy and known to fall over people, easily distracted
fears;; losing esmerelda, dying alone, being taken advantage of
goals;; to become a famous fashion designer, get married and have a set of twins herself.
history;;



born 7th april, two minutes after her twin sister esmerelda, in los angeles.

named tiana ariel thomas as her mother had an obsession with disney princessess.

grew up inseparable from her twin sister but quickly it became aware that tiana was the more delicate and naive of the twins

has no medical issues at all apart from sometimes she gets hayfever but that's pretty normal

was interested in fashion from a young age and often cut out pictures from the magazines to make a scrapbook of clothes she liked.

has never had sex and doesn't plan to until she is in love with the right person which is seen as very old-fashioned by most people.

only knows she is bisexual because she found herself watching her best friend changing one day and found it turned her on.

joined the band with her twin sister and has loved every moment of it since, loving the fact she gets to style her sister and the rest of the band

she has never been kissed by either a boy or a girl. she doesn't realise that this is because her twin sister scares them off

she finds it hard to keep up with her sister and often finds herself very lonely because esmerelda tends to scare people off who could hurt her.




[/size]

name;; verta
age;; 20
what makes the world go 'round?;; don't sweat it
roleplay sample;;


Sebastian was always himself and being himself had never been much of a problem for him. But, he was certainly making sure that he was going to impress Blaine and that wasn't something he was used to. He found he wanted Blaine to like him and not to think he was some jerk. Maybe that's why he hadn't even tried to be bitchy towards him. "I guess then that I'm good at dancing but I'm not good at any other sport. I suck at sport. It's not my thing. I don't play it at all unless forced."

"You're an awesome cook?" Sebastian repeated, raising an eyebrow at him. "I think I'll have to see that for myself." He smiled playfully, sipping his coffee and watching Blaine. "Guilty pleasure?" Now that was a tricky one. What was his guilty pleasure? "I really like just sitting in front of a fire, listening to cheesy 1950s swing music with a mug of hot chocolate… I don't think that's a guilty pleasure? I like the song Barbie Girl more than I should do too."



[/size]
Application Template Created by
DOLL OHH!
of Caution 2.0