Post by CODY CONOR AMITY on Jul 2, 2013 1:00:33 GMT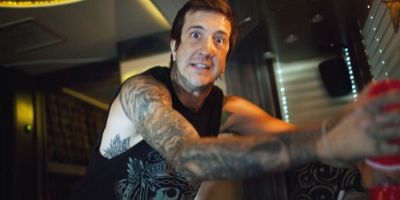 cody conor amity
[/i];;[/b][/size]
28 . tour staff . co-founder . straight . hardheaded . Austin Carlile.[/center]
who are you?
[/b][/i][/size][/font][/center]
So, I guess you want something from me? My story? It's no better then anyone else's, but alright. Mom and Dad were high school love birds, and mom got herself knocked up at 16; and I came along that winter. Her parents were less then pleased, but whatever. I guess I was so damn cute they couldn't do anything about it. My parents did manage to finish school, and even go to college. Anyhow, Dad wanted to work with models for some weird reason; Mom never questioned it, and I guess it wasn't too shocking that after they got out of school, that's what they did. I was 10 when we relocated to Los Angeles. Needless to say, I was pretty pissed about it. I had friends back home, and they were just going to up root me? Cool, thanks guys.

Anyhow, once we relocated, I started a new school. And with that new school came new problems. I had a stick up my ass about having to be somewhere I didn't know, and I made it pretty obvious pretty fast. School was a pain, and I didn't want a thing to do with it. But, I made decent grades, dated a few people, had a few friends and stuff like that. Though the most I remember about school is starting fights. Anyone had something to say about me, or my friends, or anything really and they answered to my fist in their face. I often bit off more then I could chew, but I made it work. Only got beat up real bad a few times. Generally stayed out of the hospital. Only ended up there once, I was 17 and I honestly don't remember much of that night.

I will tell you I started drinking and smoking young, about 14. I fell in with a rough crowd, and I know I made a lot of mistakes. Almost got a girl pregnant at 16; must run in the family. Though, she lost the baby to a miscarriage. I'm sorta glad, I'd be a shit dad anyhow. We didn't really see much of each other after that. I dropped out of high school once my group of friends chose her over me. I just went and got my GED, so I graduated around the same time everyone else did. Though, I will say once I dropped out, for a while, mom and dad kicked me out. So, I couch surfed most of the time, smoked a lot of cigarettes and played guitar to kill my sorrows. But, I did eventually get a job, and get my shit together. Like I said, I got my GED, and they were alright with me again.

I never considered college; it just wasn't for me I didn't think. But there was a community college in my hometown that offered a program in music management. I applied, was accepted and excelled. I graduated top of my group and for once in my life, I was really proud of myself. I worked for a record label for a while, but then I was able to get hooked up with a group who were looking to make a tour, a really big one. It was a long shot, but I gave it a go and it ended up changing my life for the better. We ended up designing something that became a tour, full of bands. One of the most sought after tours there is, and that's pretty damn cool. I never thought a washed out kid like me could actually make it here. I just learned the business, and it just sort of happened.
[/justify][/size]

name;; Rpry
age;; 22
what makes the world go 'round?;; admin'd ;D
roleplay sample;;




Cody had rolled out of the bed five hours earlier then he needed to, and hadn't been able to sleep again, so he took a shower, took care of his morning routine of eating and sharing his food with the God of Mischief, and he just decided to go to work. He had keys. He let himself into his office, did paperwork he normally neglected, and just sat there. He watched the sun ruse from his office, and just stared out the window. One would have probably thought he was strung out on something, but he wasn't. He just didn't know where to go from here. He didn't have anything to do, there was no one here to bother, and he wasn't hungry. Having nothing to do made him worry about his life choices some days. Other men his age had families, and he had a cat. He did have family, but none of them needed him right this second, or knew they needed him, and were potentially still sleeping, so he didn't have anything to do.

He went to get coffee as soon as the near by coffee shop opened, and he was pretty sure he scared the little girl who opened the store. He knew he looked scary, and she was from around there and knew his name. Most people knew his name, he was an Amity, and he was a pretty big deal. Who was he kidding? He was the best looking, best dressed, and just all around coolest Amity there was, and he knew it. He walked and talked like he knew it, and there wasn't a damn thing anyone could do to show him otherwise.

Little time he wasted at the office was enough to make him kick something, till he looked in the conference room and noticed his sister's laptop-netbook thing sitting on a desk. She left one here sometimes, that she would make appointments on. He snorted, as an idea filled his head, and he headed towards the copy machine in the office. He set his coffee down, and he opened the lid on the copier. He pressed his face into the glass, made a hugely dumb face, and his copied his face. Once the copier printed one, he made two more, and grabbed them, heading into his father's office, where he taped one to the inside of his closet. Then he went to his brother's office, did the same thing, and headed back to his sister's netbook, where he opened the lid, folded the paper so it just covered the screen and couldn't be seen from the outside of the closed computer. He could hardly contain himself as he scooted back to his office to wait for everyone else to get here.

He knew he had to try to act normal, but it was going to be very hard for him; he was horrible at practical jokes, but this would be worth it if he could keep a straight face long enough.



[/size]
Application Template Created by
DOLL OHH!
of Caution 2.0